From 19th to 21st July 2022, Kituo cha Sheria in partnership with the Legal Empowerment Network, International Development Research Centre and the African Centre of Excellence for Access to Justice, convened a meeting of legal empowerment practitioners from across Africa. The convening, held in Nairobi, Kenya brought together 15 grassroots and national legal empowerment organisations from West, East, Southern and the Horn of Africa.
The objective of the meeting was to begin to build friendships, solidarity, partnerships and a community of practice around legal empowerment in Africa. We aimed to develop a clear roadmap detailing collective priorities, activities, responsibilities and timelines towards enhancing legal empowerment in the continent.
State-of-play of the legal empowerment movement in Africa
The convening began with participants reflecting candidly on the state of affairs of the legal empowerment movement in Africa. The similarities across the continent were striking.
First, practitioners expressed frustration that State actors still do not fully appreciate the immense value-added of community-based justice initiatives.  This is in part because while substantial and impactful work is happening  across the field, we are not doing enough to learn systematically and document and share our achievements, best practices and strategies.  Many practitioners were overwhelmed by the demand for justice within their communities. Given the scale of the challenge, setting time aside to reflect on impact and lessons learnt from the ground is challenging.
Second, the question of recognition of community-based paralegals in the respective countries continues to be a priority. Practitioners shared experiences with legal frameworks enacted in various countries to define and recognize community-based paralegals as critical players in the access to justice chain. We found that countries that have passed such laws have often ended up shrinking the space and curtailing the role of community-based paralegals (for example, Kenya, Sierra Leone and Tanzania). On the other hand, African countries without such laws appeared to have a more liberal approach, emphasising for example, community recognition of paralegals (for example, South Africa). The lack of protection to ensure their security in the line of duty continues to be an urgent challenge.
Third, practitioners continue to face challenges related to the lack of financing for legal empowerment in the continent. While new initiatives towards enhancing funding for access to justice, like the Legal Empowerment Fund, were welcomed, we noted that these funding streams were neither sufficient to meet the needs, nor were they flowing down to communities, due to stringent donor pre-requisites for accessing resources. The high level of external donor dependence across the continent was likened to neo-colonialism. There is a need to decolonize the sector, and to rethink fundraising and resource mobilisation from a point of agency.
Finally, participants agreed that there was a need to strengthen coordination of legal empowerment organisations at regional and sub-regional levels.
Having highlighted the challenges in the African continent within the movement, we discussed ways to address them. The Learning Agenda for Legal Empowerment—which puts forth a set of questions for collective learning across our field– clearly mirrors the pressing issues within the movement in Africa for example, how can we demonstrate our impact? What forms of financing and recognition can help us grow the movement? How can legal empowerment build collective power?
Several organisations among us are undertaking action research and learning efforts to deepen their impact, build community power and address root causes of injustices. These organisations shared their learning with the wider group: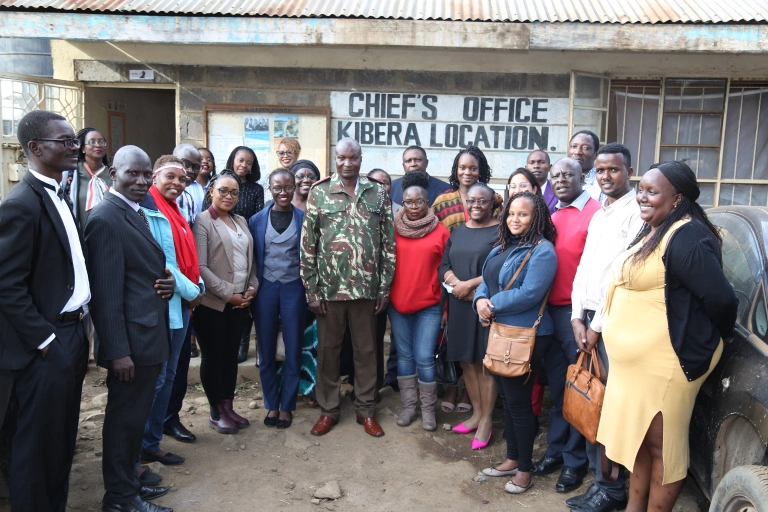 The case studies demonstrated the importance of using participatory action research as an approach to build power among communities, and how learning can generate evidence that improves the effectiveness of legal empowerment programs. In all the case studies, communities are deeply involved in the data collection and analysis, and the learning is being used to drive advocacy efforts. In fact, the essence of learning is to build community power, formulate an evidence-based agenda, build people-driven collective action and thereby bring about long-lasting, transformative systems change.
Continuing the practical, action-oriented learning efforts, we also undertook a study visit to the Kibra Justice Centre, which is run in partnership with Kituo cha Sheria. Participants saw first-hand how community paralegals address justice needs, how they engage with the state (police, local officials) and reflected on the comparative experiences in their respective countries.
The road ahead
On the last day, a clear roadmap was crafted for how we can continue the sharing of experiences, learning, collaboration and advocacy efforts. Practitioners strongly emphasised the need to continue building a community of practice and embracing learning.
We agreed that there is a need to unpack and build consensus around the contested concepts of recognition of paralegals and financing. When we seek recognition of community-based paralegals, what exactly do we mean? Is this formal public recognition alone, or also recognition by communities? We would like to understand how community paralegals work in countries without legal frameworks for recognition. And in countries with restrictive laws, the movement ought to push governments to amend legislation. Learning is crucial so that such advocacy strategies can be founded on empirical studies that document the value and impact of work of community-based paralegals. Tied to this is the need to document the micro successes of state – paralegal collaboration that have had impact  on the justice journeys of ordinary citizens at grassroots level. Are these initiatives scalable and can learnings from these interventions lead to the development of a model "legal empowerment" law that looks at nuanced approaches to recognition and innovative ways of financing?
There is a need to go back to the drawing board and interrogate the best models for financing (public funding, donor funding versus more local and self-sustaining models of funding). The model can then be adapted to specific contexts. It was resolved that practitioners engage with the Legal Empowerment Fund and other development partners so that they can improve the accessibility of financing to local organisations and communities.
Recognizing the centrality of the community paralegal in our movement, participants floated the idea of a reward for impactful paralegal work— the "African Paralegal of the Year" Award.
We also committed to evidence-based advocacy at regional and sub-regional levels. This includes deliberate engagement with the African Union to shape its 2063 Agenda on access to justice to reflect a more people centred approach , and with sub-regional bodies such as the East African Community, Southern Africa Development Cooperation, and ECOWAS.  It was recommended that continental collective action should be coordinated by the African Centre of Excellence, a pan-African organisation which is expanding its membership.
Finally, participants expressed keen interest in continuing to share experiences with each other, deepen our collective efforts towards learning, and do more to document and showcase the impact and value of our work,  including through creative ways like storytelling, using digital media etc. We noted that practitioners may need technical support on intentional and systematic learning, including collecting, interpreting, documenting and showcasing data, and committed to peer-exchange and peer-support within our community of practice to build the necessary skills and knowledge.
In continuing with the energy and solidarity built in this regional meeting, the West Africa Legal Empowerment Network have invited both AMT and the  Citizenship Justice Programme to share in detail how they are using legal empowerment to build community power to the wider West Africa audience. This virtual exchange is due to take place at the end of Oct, 2022.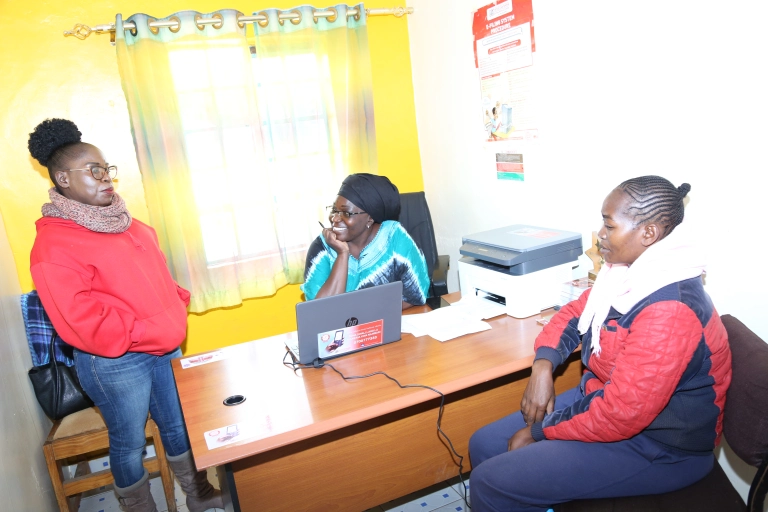 Participating organisations:
Paralegal Advisory Services Institute (Malawi)
African Centre of Excellence for Access to Justice
Federation of Women Lawyers (FIDA)- (Uganda)
Timap for Justice (Sierra Leone)
Legal Aid Forum (Rwanda)
Southern Africa Litigation Centre (SALC) (South Africa)
Public Interest Law Clinic-Makerere University (Uganda)
Paralegal Society of Kenya, Community Advisory Offices of South Africa (CAOSA)
South Sudan Law Society (South Sudan)
Samburu Women's Trust (Kenya)
Lady Ellen Women's Aid Foundation (Sierra Leone and Core Member, West Africa Legal Empowerment Network )
Children's Legal Defence Centre (Somaliland)
Legal Aid Clinic, University of Hargeisa (Somaliland)
Paralegal Alliance Network (Zambia)
Centre for Human Rights Education, Advice and Assistance (CHREAA) (Malawi)
Kibra Community Justice Centre (Kenya)
Akiba Mashinani Trust (Kenya)
International Commission of Jurists-Kenya
Legal Empowerment Network
Namati Citizenship Program (Kenya)
Kituo cha Sheria (Kenya)
Writen by: Dr. Annette Mbogoh, Poorvi Chitalkar and Aimee Ongeso