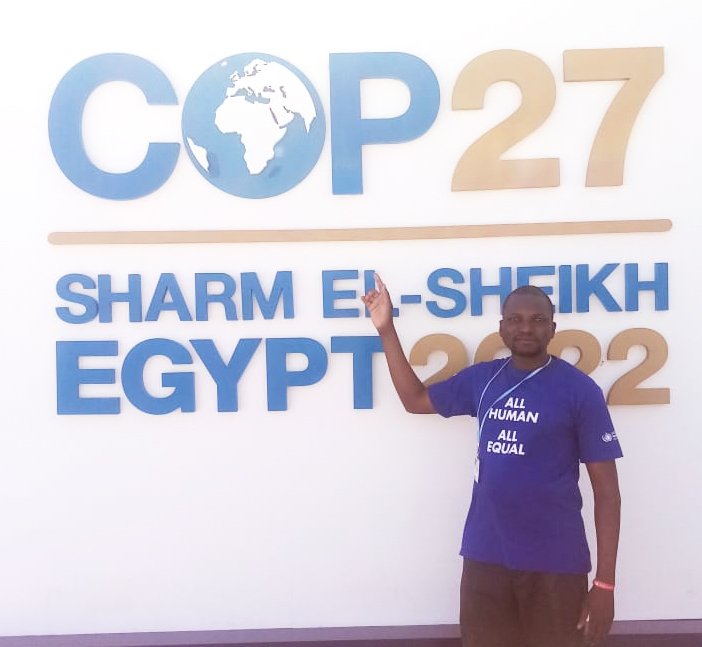 Community paralegals can come in to address the environment and Climate In Justices faced by communities. As reservoirs of information, community paralegals can create awareness at the community level on issues of climate change and make communities aware of the need to tackle Climate Change. Paralegals can carry out advocacy work on climate change thus help organize communities to demand change.
Evans Muswahili Ladema, Kituo's paralegal from Vihiga Community Justice Centre who is so passionate about the environment and Climate Justice participated at the UN Climate Change Conference COP27 that started on 6th and stretched through to 18th of November in Egypt, courtesy of generous funding from the Global Alliance for the Future of Food and UN Climate Change accreditation facilitated by Kituo Cha Sheria and Namati Kenya.
COP27 presents an opportunity for all stakeholders to come together to find concrete solutions to the global climate emergency, including mitigation, adaptation and resilience, loss and damage, and climate finance.
Evans spoke on behalf of the poor and marginalized in Kenya seeking climate justice. His presentation touched on three key issues; relationships between food systems and climate change, scaling regenerative food systems as a climate solution, and gender issues in food systems and climate action. He looks forward to having the ambitious goals and commitments set by UN member states in reducing global warming put into practical action.